Lorraine Nilon
In this mind-blowing episode, we'll dive deep into the mysteries of life with the highly regarded author, psychic, and astrologist Barry Eaton! With over 20 years of experience, Barry shares incredible insights that he's gathered about the afterlife, soul evolution, and karma.
We'll explore the nature of the soul and its journey in between lives, discuss the essential purpose of life, and how emotions are intertwined with our soul's evolution. You'll learn how to confront and deal with emotional baggage in a way that promotes growth and eventually helps you uncover your life's purpose.
In this conversation, Barry reveals the truth about the afterlife, dispelling the common misconception of a heaven and hell scenario. Brace yourself for an in-depth understanding of the soul's journey through different planes of existence, and how we can move beyond the limitations of the material world to embrace the spiritual side of life.
Fear not though, as we'll also discuss how you can navigate life with confidence, battling your fears, and revealing the importance of self-reflection in achieving emotional and spiritual growth.
Barry's candid discussion about astrology and its impact on our lives will leave you questioning everything you've ever known. The importance of discovering and embracing our own truth can't be overstated, and Barry shares invaluable wisdom from his work that will surely help guide you in your own journey.
So don't hesitate any longer! Dive into this breathtaking episode and explore the hidden secrets of existence and your soul's journey that you've always wanted to uncover. Transform your life and level up your spiritual game like never before! Tune in now and prepare to be blown away!
( Amazon) https://geni.us/Barryeatonbooks
Barry's website: https://afterlifebarryeaton.com/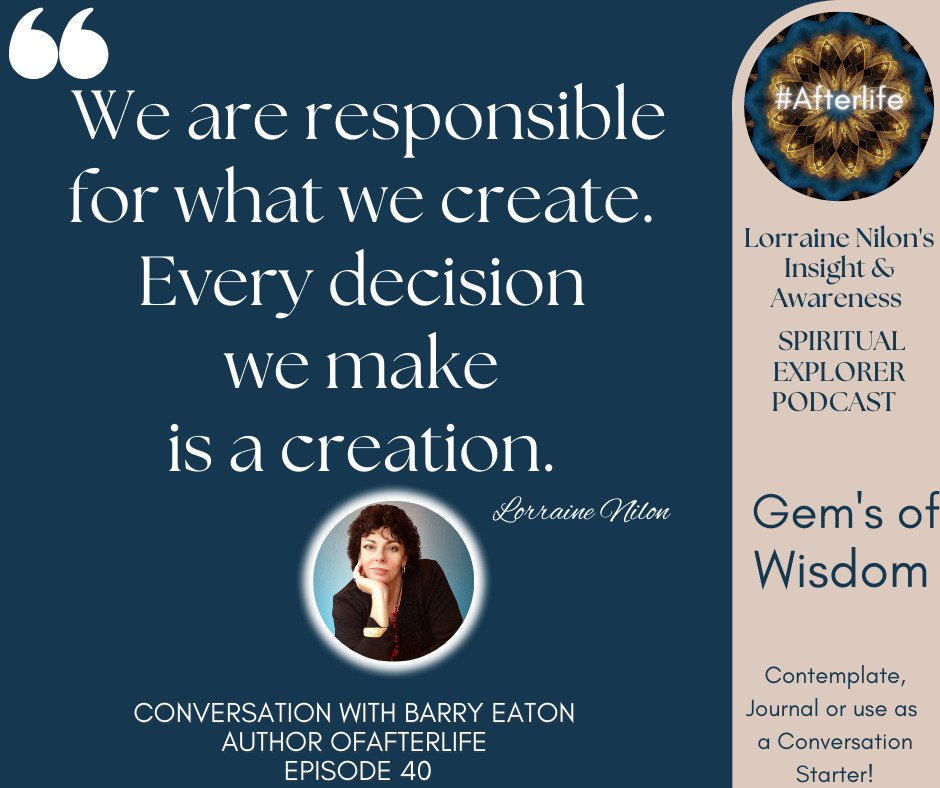 Thank you for checking out Lorraine Nilon's Insight & Awareness Spiritual Explorers podcast.
Enjoying the content and want to show appreciation: https://www.buymeacoffee.com/LorraineNilon
Lorraine Information
You'll be surprised at what a session with me reveals. I take on a limited number of clients and improvement in self-awareness is inevitable after a session. I pride myself on my ability to help you understand yourself better.
Never miss out on the announcements of the next episodes:
Check out MORE Gems of Wisdom from Episode 022 – Use them as journal prompts, contemplation points or conversation starters.
We would love to hear your Aha moments – A special WORDS OF WISDOM form for reviews
https://lorrainenilon.com.au/wp-content/uploads/Barry-Eaton.jpg
1920
1920
Lorraine Nilon
https://lorrainenilon.com.au/wp-content/uploads/Lorraine-Nilon-4.png
Lorraine Nilon
2023-06-21 13:41:52
2023-06-21 13:46:36
040 - Barry Eaton: Uncovering the secrets of life - Author of Afterlife