Spirituality, Evolution & Awakened Consciousness
Getting Real About Soul Maturity and Spiritual Growth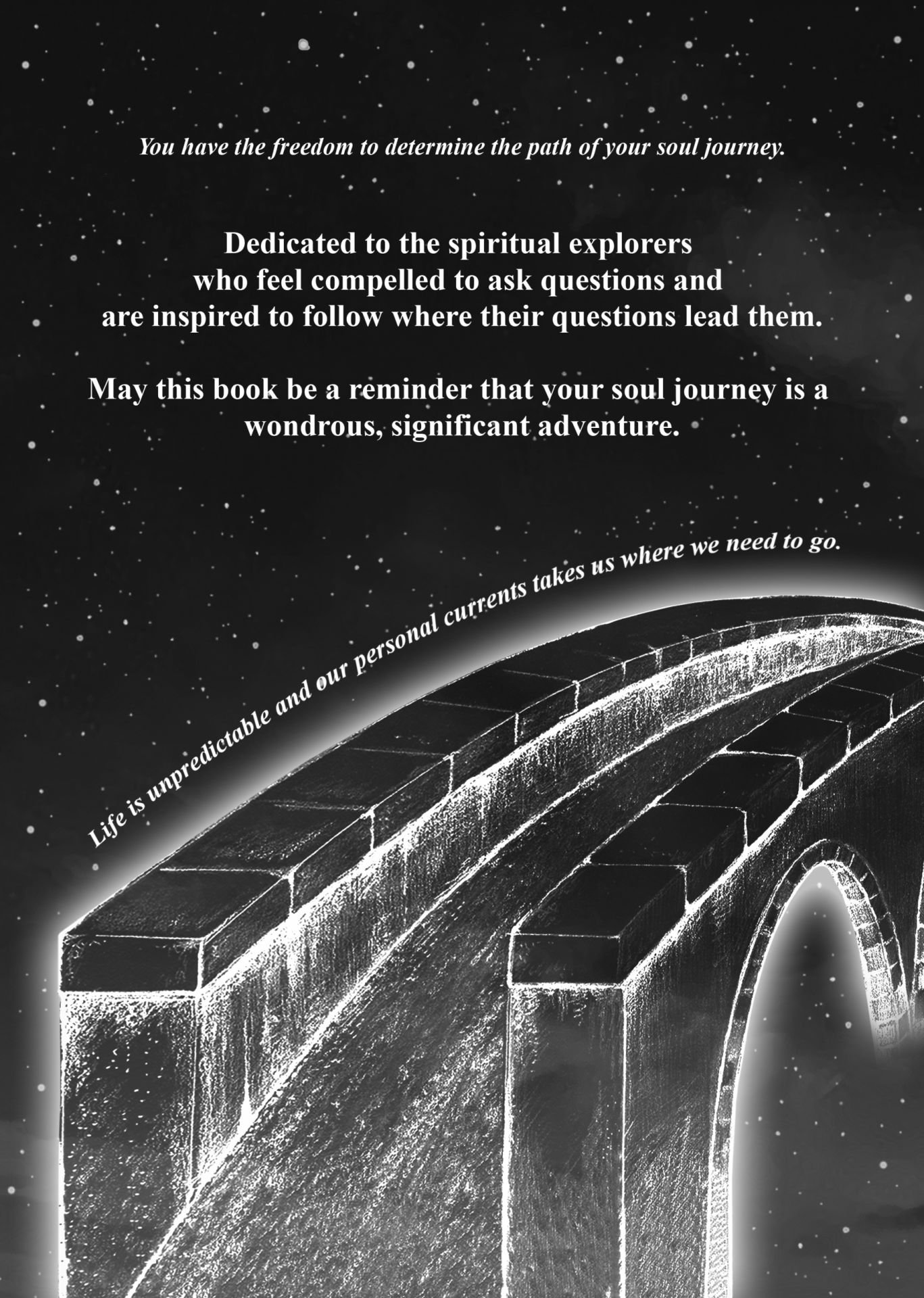 "You have the freedom to determine the path of your soul journey"
This illustration was designed to represent that we are the bridge to consciousness. It also signifies that we are supported on our journey and at times we have to be the support for others as well as ourselves.
The choices we make about what is important become the paths we walk. One path may lead to another and each bridge we cross we become stronger—we mature.  
Understanding spirituality is a lifetime pursuit and it is at times a wondrous adventure and other times it is confronting. It the difficult times it serves us well if we remember we are heading somewhere—our growth requires us to be present in all we experience. 
"Life is unpredictable, and our personal currents take us where we need to go."
Spiritual explores feel compelled to follow their curiosity and it is often our curiosity that is the bridge from the unknown to what becomes our known—our wisdom. This requires an exploration of gathering information, experiences and learning to trust what resonates with our souls.
The stars represent hope and clarity that inspire us to seek answers and accept the adventure our internal quest takes us on.
Dedicated to the spiritual explorers who feel compelled to ask questions and are inspired to follow where their questions lead them. 
May this book be a reminder that your soul journey is a wondrous, significant adventure.
Breaking Free from the Chains of Silence

A Respectful Exploration into the Ramifications of Abuse Hidden Behind Closed Doors
'Life is like a river and you may find yourself stuck in a whirlpool and surrounded by murky water. At first, truth may trickle past you, but as you align to truth you find yourself in an expanding stream that refreshes your soul.'
The illustration was designed to respectfully acknowledge the struggle survivors of abuse have with their history and sense of self. Survivors can feel trapped in a vortex of pain, haunted by the memory of their abuser, battling their sense of loss and betrayal.
When opposing currents collide, whirlpools are created; such as the innocence and trust of a child with their abuser. This leaves the child in a fog of confusion, and oppressed by emotional turbulence, which creates a downdraft of fear, despair and beliefs of being unworthy. Belief of being unworthy generate shame, which is the sentiment that there is something wrong with who they are. Their self-definition becomes infused with shame, which develops into chains of oppression. Shame and silence fuel the whirlpool of despair, which is easy to succumb to, and difficult to get out of.
'The chains of silence cannot be broken until they are recognised.'
When survivors understand their truth, debunk negative self-beliefs, and gravitate towards nurturing their soul, they dissipate their emotional whirlpools. Courage is required to reach for freedom, because confronting the oppression of their sense of dignity, value, worth and significance is a complex and a difficult process. The chains of oppression hold the survivor in the struggle. However, as they recognise and value the truth of who they are, the chains break and their struggle becomes a triumphant story of survival.
Each section of Breaking Free from the Chains of Silence starts with an illustration symbolically depicting the process of breaking free from the chains of oppression and silence, to inspire and nurture the soul of the reader. Each individual survivor is worth the time it takes to read this book to gain an awareness of the dynamics of paedophilic abuse, an understanding of how they have been victimised and how they can detach and free themselves from the impact of the abuse. Their families and supporters will also experience a cathartic benefit from the information is this book as it helps them face the true ramifications of paedophilic abuse.
This book is dedicated to the souls who have been wounded by the indifference of another.
Your Insight and Awareness Book
Your Life is an Expedition to Discover the Truth of Yourself
'Your soul journey is like a river, it has its own ebbs and flows.

Life is a journey which takes you through many experiences, often into uncharted waters.
Your life experiences create opportunities for you to discover the truth of who you are.'
This illustration was designed to represent how the river of life flows, regardless of any obstacle. It also denotes that life will take you to the emotional labyrinth of your soul's unconsciousness.
A labyrinth is a maze with only one entry point; your birth into a physical body. The entry point becomes the exit point with the death of your physical body.
You journey through the labyrinth of life, experiencing many twists and turns as you live the complexities of your soul's unconsciousness. If you become lost in your labyrinth, you stagnate until you are ready to be truthful about what sustains your cyclic patterns of oppression. This is represented by the whirlpools. Curiosity and truthfulness enable you to walk the path of your labyrinth, learning from the truth of yourself.
'You have to walk through your own emotional labyrinth, before you can know the truth of who you are.'
As you experience life, that which is unresolved within you is revealed and you have the freedom (freewill) to ignore, deny or truthfully address what is revealed.
The labyrinth represents the storehouse of your unresolved emotions, barriers to truth, framework of soul oppression and control structures that you use to protect your denial of the significance of your soul. As you walk the labyrinth, layers of your soul's unconsciousness are revealed, and at the same time the currents of life expose your soul's consciousness.
The flow of the river always stems from truth and represents the opportunity to resolve what impedes your awareness of your soul. The truth of both consciousness and unconsciousness impact the river, but the free-flowing river is nurtured by your acceptance of truth.
You will experience the consciousness and unconsciousness of others and the obstacles of your own unconscious creation. These experiences are opportunities the river of life provides for you to learn from. You are a soul, and you internally yearn to be of the truth of your soul.
This lifetime is part of your eternal soul journey, and this book is dedicated to you. May you find the courage and honesty to explore beyond your limited perception of yourself, to discover the truth of your soul.'