Online courses - Workshops - Immersive Retreats - Webinars
After a decade of workshops in and around my local area, I look forward to offering this service in many different forms.
Online courses are currently in development and will be launched in May 2020. We look forward to the Insight & Awareness Academy launch and the ongoing development aligned with each of the new books listed below.  If you are interested please register your interest. You will be notified about the launch and receive an Early Bird discount.
Free and heavily reduced trials will be held throughout the development stage; if this is something that you would be interested in, please indicate it on the contact form.
(I call this group The Frontrunners – You will be offered to do different sections of the courses with Lorraine or a Mentor, or online followed by a phone call to gauge your reactions. This could be private, in an online group chat or a physical gathering. You may also be asked your opinion on book covers and offered to read and review new releases.) Register your interest ( to contact form)
Register your interest:  CONTACT FORM
Immersive Retreats 2-3 days will be held in various locations. We are open to suggestions, currently, the Hunter Valley, Ulladulla, Central Coast and Newcastle have been nominated. Dates and venues to be advised.
Register your interest or suggestion:  CONTACT FORM
All courses – Workshops – Immersive Retreats and Webinars are based on the books and are an exploration of our soul truth.
They are expeditions to:
Reconnect with our authentic self (our souls) and live to our true potential.
Recover from the pain, misconceptions, negative self-beliefs and fears we carry.
Rejuvenate our relationship with ourselves, others, reality and our origins of truth.
---
Spirituality, Evolution &  Awakened Consciousness 
Understanding how to get real about soul maturity and spiritual growth
To understand the true meaning of spirituality, evolution and awakened consciousness, we have to acknowledge the complexity of who we are. We are all souls having the experience of life within a physical body. How we approach this experience has a huge impact on the way we live, and on the legacy, we leave our souls to carry.
We can use our truthfulness to resolve and convert the unconscious energy into conscious understanding. This process of changing energy expands our awareness and self-knowledge is evolution. Evolution is the process of developing changes that create emotional growth and soul maturity.
The main purpose of this course is to understand how to get real about Spirituality, Evolution and Awakened Consciousness. Also how to stay grounded; there is no Spiritual by-passing here. 
Subjects include:
What is spirituality?

What is not spirituality?

Judgement impedes spiritual evolution
Spiritual evolution derived from exploration
Life as the opportunity for spiritual evolution
Evolution and your Core Essences
Awakened Consciousness
Significance
Karma
An excellent course for those who want to go beyond the conceptual ideals of Spirituality, Evolution and Awakened Consciousness and want to be insightful and aware.
Great for those who yearn to feel the meaning of their lives.
Anyone who is sick and tired of feeling 'Not good enough'.
Those who internally know they want to get real and are not interested in spiritual illusion.
Practitioners, spiritual coaches who seek to build a greater comprehension.
Curious souls
---
Energy of souls 
Understanding your soul system to expand  your emotional and spiritual maturity
Energy of Souls is designed to educate those who are interested in the complexities of their energy system. We are layers of energy, and the better we grasp our own personal reality, the more aware we become. Awareness can be a gift and a curse.
A gift if truthfully acknowledged and objectively observed. This means our awareness becomes the pivotal points to learn from. This enables us to become insightful about ourselves, life and the journey of our souls.
Awareness becomes a curse if we distort what we are aware of to suit a belief we want to control. Our awareness can be used as an investigative tool, when we are willing to be an objective observer of ourselves.
The main purpose of this course is to understand the energetics of being a soul in a physical body and how we are creators of the energy of souls. You cannot nurture or protect what you do not understand.
Subjects include:
Soul's consciousness
Crux of unconsciousness
Unresolved emotions
Charkas and auras
Soul of many lives
Collective energy
An excellent starting point for those who want to know more about energy.
Great for empaths who struggle to comprehend what they energetically feel and emotionally impacted by.
Anyone who feels energy, and is aware of something but is not sure what.
Those looking for a fresh approach to energetic awareness.
Practitioners in the energy field wishing to build a greater comprehension of the energy exchange and impact.
Those in situations of caring for others and feel drained of energy
Curious souls
Helped and taught me...
Lorraine Nilon and Insight & Awareness workshops have:
helped me break habits I've been stuck in for lifetimes
taught me how to be resilient, trusting myself before what others think of me
introduced me to the reality of emotional independence so that I can be around people behaving badly and not have to demand that they change so I can be OK.
RD
Workshops...
Workshops have:
given me a voice, meaning and purpose to my history of abuse
enabled me to be the rock in my children's lives
given my children freedom from their parent's unconsciousness (soon after working with Lorraine, my children began to sing again)
Rachel
Learn...
You learn how to:
really like yourself and trust in whatever you are experiencing at the moment.

resolve your emotions and evolve from your denial.
WT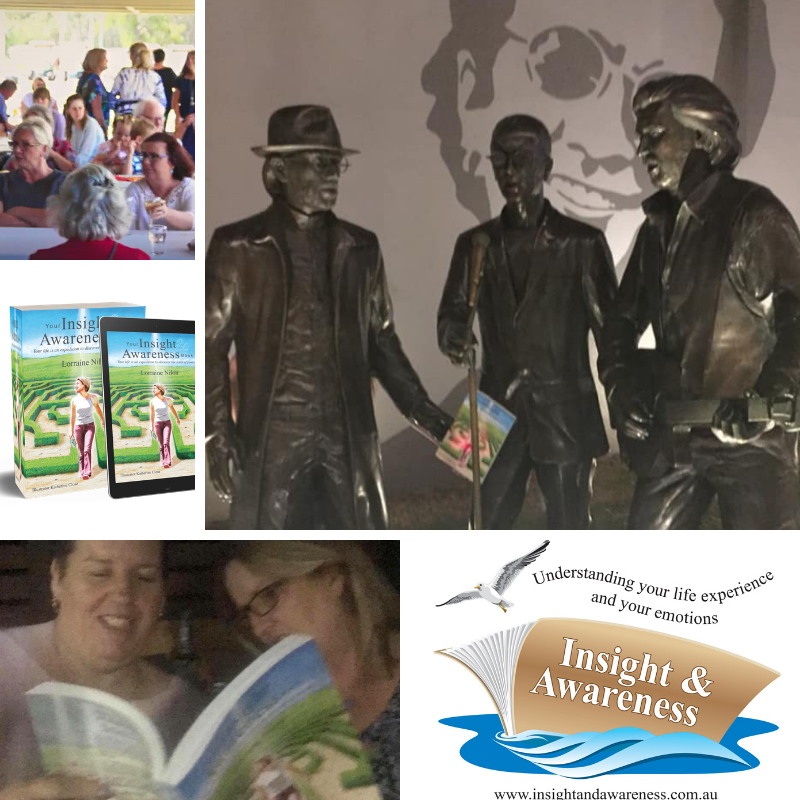 Non-judgemental...
Lorraine has a non-judgmental, honest, open approach that delivers the message in a truthful manner without control and in a way that the individual will understand.
CL
---
Emerging Awareness
An invitation to honour the true essence of who you are
If you are a spiritual explorer, Emerging Awareness will ignite your curiosity. It will also re-ignite curiosity in those who are spiritually weary, and are stuck in the chase to 'find themselves'. It is an invitation to embrace the core essences of your soul. It is an opportunity to recognise them within yourself and to acknowledge your reaction to the purity of your own soul.
When you approach life with an open mind and accept that it is an expedition, you can shift the focus from wanting to arrive at a destination, to being aware of what is being exposed to you in the present moment.
As you recognise the opportunities to learn from yourself, relationships with others and your present circumstances, your insight and awareness expands. This enhances your relationship with the truth of your own soul.
The main purpose of this course is to move beyond limited perceptions and embrace the core essences of your soul. To attune to your own awareness and honour the exquisiteness of who you are.
Subjects include:
Living and Experiencing life as an opportunity 
Our world
Spiritual journey
Learning to honour your soul
Losing a sense of self
Curiosity
The protection of your unconsciousness
Suppression
Repression
Oppression
Soul oppression
Core essences of your soul.

25 core essences explored, including Acceptance – Appreciation – clarity – Hope – Joy – Uniqueness – Freedom 
Excellent for those who yearn to reconnect with the core of their being.
Great for those who want to develop a strong relationship with their soul.
Anyone who wants to explore the beauty of their soul and resolve their own self-opposition.
Those who internally know there is more to them than what they give themselves credit for.
Practitioners and nurturers of others who seek to build a greater comprehension.
Curious souls
---
Your Insight and Awareness Book
Your life is an expedition to discover the truth of yourself 
Please note: This course has been the fundamental foundation of the Insight & Awareness development it is only offered under the guidance of mentors, or in intensive retreats or physical gatherings workshops. Applications are required via the contact form, which is followed up by a phone consult and an individualized prerequisite. We respect each applicant comes with their own history and is assessed on their own willingness and merit.       
This is an intensive course broken into four sections. Your Insight and Awareness book is not a how-to manual nor is it designed to tell you how to act consciously. It is more a tour guide asking you to truthfully question your reality and uncover the extraordinary lengths you go to resist, deny and avoid your insight and awareness.
It is a layered adventure that keeps building awareness and enables you to learn from your reactions to what you feel and observe. It is a course and book that will excite those who truly want to understand and face the reality of what is inhibiting them from feeling, accepting, trusting and unifying with the truth of their soul.
The information is the result of tracking the energy of many emotions, fears, beliefs, even the extremity of indifference, and the consciousness naturally flowing within our souls.
The main purpose of this 4-part course is to explore the internal void and answer questions hidden beneath your limited perception of yourself. To understand the process of tracking energy and truthful interpretation. To recognise your ego, desire for control and worship of control that creates narratives that cause you to become lost in the labyrinth of your own soul oppression or to discount the significance of your actions, cyclic behaviours and the words you speak. It is course of soul accountability and opens you to energies that require truthfulness to manage. 
This is a course for the dedicated: those who have a destiny to uniquely fulfil, a mission to evolve their soul. Those prepared to walk into the core of their unconsciousness, supported by a mentor, and resolve the rawness of their own unconsciousness. 
All destinies are respected and it may be a stepping stone to your own creative endeavours or to become part of the team of Insight & Awareness Mentors.  
Subjects include:
Learning to track energy and truthfully interpret energy felt. Participating in the evolution of your soul with integrity and a real feet-on-the-spirituality.
Leaning into your original intention for this lifetime; how to enhance the 'no rock unturned' attitude.
Part 1 – Chapters One to Nine
Your soul's consciousness
Your soul's unconsciousness
Resistance, denial, avoidance and codependency
Negative beliefs
Your addiction to oppressing your soul's consciousness
Externalisation
Control
Freedom of choice
Part 2 – Chapters Ten to Eighteen
Avoiding soul accountability
Soul integrity
Avoidance of soul commitment
Separation from your awareness of your soul
Indoctrinations and concretisation
Escapism
Caring for your soul
Lives and life
Part 3 – Chapters Nineteen to Twenty-Five
The journey
Understanding the energetics of the mass-energy of mankind
Departure from this lifetime
Lost souls
Demonic
Psychic attack of an entity of soul denial
Crossed-over souls
Reborn
Energetic collectives
Chakra and aura system
Defiance against your soul blueprint
Carried victim energy
Belief of not being good enough
Images and illusions
Part 4 – Chapter Twenty-Six to Twenty-Nine 
Controlled evolution
Mankind's energetic collectives sustaining controlled evolution belief
Ramifications of controlled evolution
Denial of the truth of controlled evolution beliefs
 
---
Worthy of Recovery                                
Mid to late 2021
Understanding the wake left behind life shocks, betrayal, abuse, addictions and narcissistic relationships
The book and course offer assurances that regardless of what you have experienced and where you have been, you deserve and can have a strong sense of who you are. It highlights the importance of understanding what has become a barrier to you accepting your reality, liking the process of self-discovery and (the big one) loving who you naturally are.
There are many events and moments that are life shocks that simply do not respond to 'get over it'. They rock us to our core and as much as we want to 'let it go', the aftershocks stay as torments. Worthy of Recovery offers an understanding of why we can't 'just jump over it and move on'. The book and course explain what to look for, explore and how there is a flow-on effect from these life shocks.
Course includes: 
Healing and Recovery
The Oppressor of Recovery
Road to freedom
Take responsibility for your own recovery
Accept yourself
Acknowledge reality
Celebrate your achievements
Boundaries
Healthy boundaries
Emotional pain
The best advice I can give you for any of the courses is to value your curiosity,  bring a sense of humour, accept life as a soul journey, and  embrace your uniqueness and experiences.