Lorraine Nilon
If you are experiencing a lack of sex and affection from your narcissistic husband?

In this latest episode, Lorraine sits down with Kevin McKee. Kevin is the creator of the Royal We YouTube community, specializing in abuse therapy, life coaching, and personal development.
Our discussion revolves around the reasons why narcissistic men refuse sex and affection to their wives, based on the stories and experiences of their clientele. Kevin tells us how he heard from many women who experienced a lack of sex and affection from their husbands despite their efforts to be affectionate, which bothered him because these women were beautiful and articulate.
Identifying four typical reasons why narcissistic men refuse sex and affection. The number one reason husbands stop having sex with their wives is control.
Narcissist dominate their partner's freedom to express their sexuality and feel powerful when able to use rejection as a weapon. A lot of shame comes from the rejection, causing women to think they're the problem and putting themselves down instead of realizing there's an issue with the person they're with.
Narcissistic people get turned off by the affectionate behavior of their partners and prefer to go against what their partners wants and desires, seeking the excitement of breaking down the sexual confidence.
Narcissistic people become awkward and almost disgusted when their partner seeks intimacy or comforting affectionate because they are inadequate to express love.
Lorraine and Kevin dive deeper on this topic and discuss how to identify toxic relationships and how to find a compatible partner. So tune in now and learn how to recognize the voice of someone who will respect and love you, and wants build a healthy relationship.
Learn more about Kevin's insights into narcissist in relationships @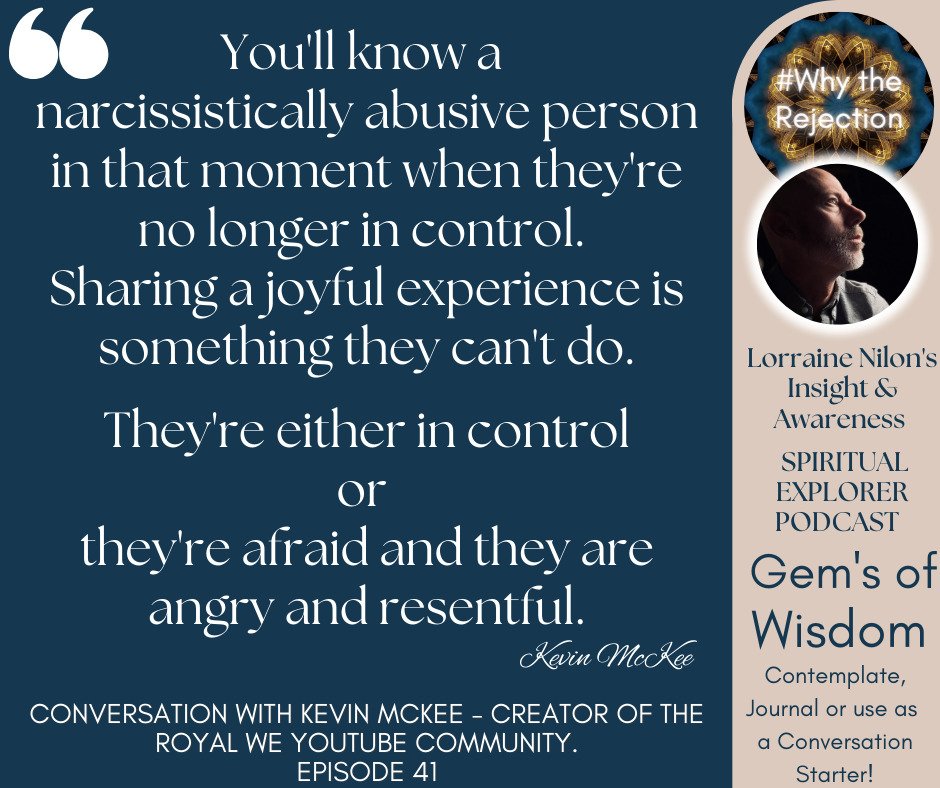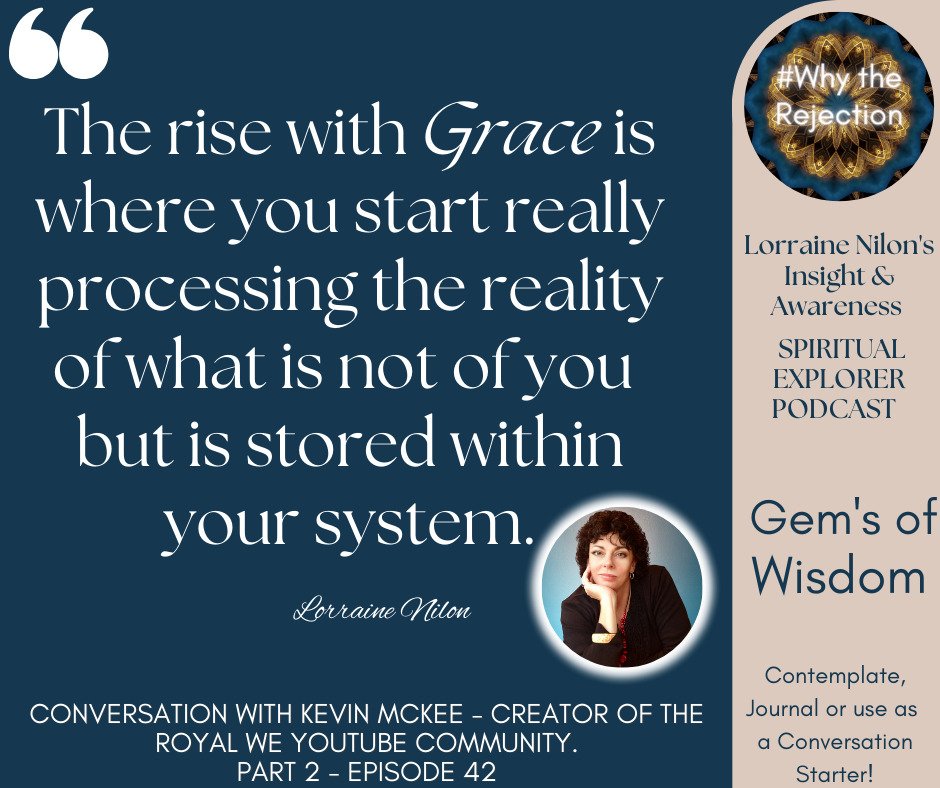 The royal we is a response to narcissistic abuse and toxic relationships. I first learned of narcissists after years of experiencing demeaning, devaluing and antagonistic behaviors from in-laws. The more I tried to fix the problems, the worse the issue became. I found myself being accused, mocked, provoked, cussed at, and blamed for it. Does this sound familiar to you?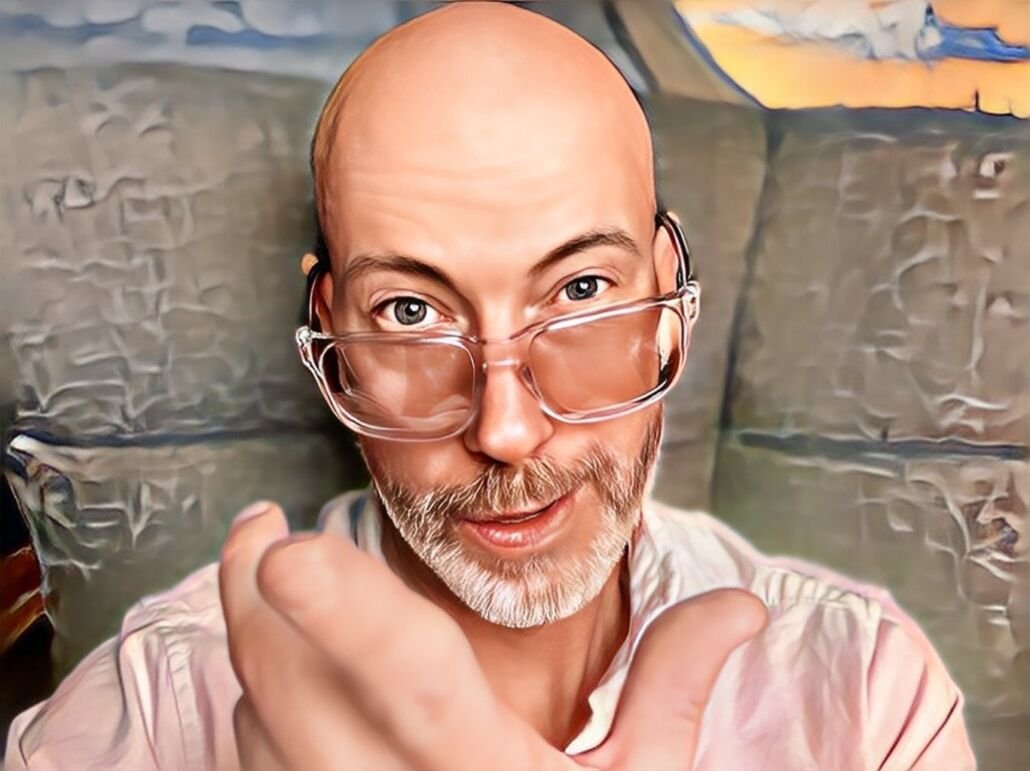 Thank you for checking out Lorraine Nilon's Insight & Awareness Spiritual Explorers podcast.
Enjoying the content and want to show appreciation: https://www.buymeacoffee.com/LorraineNilon
Lorraine Information
You'll be surprised at what a session with me reveals. I take on a limited number of clients and improvement in self-awareness is inevitable after a session. I pride myself on my ability to help you understand yourself better.
Never miss out on the announcements of the next episodes:
Check out MORE Gems of Wisdom from Episode 022 – Use them as journal prompts, contemplation points or conversation starters.
We would love to hear your Aha moments – A special WORDS OF WISDOM form for reviews
https://lorrainenilon.com.au/wp-content/uploads/The-Royal-We-Kevin-McKee.jpg
1920
1920
Lorraine Nilon
https://lorrainenilon.com.au/wp-content/uploads/Lorraine-Nilon-4.png
Lorraine Nilon
2023-06-21 14:30:53
2023-07-03 11:35:55
041-42 - The Royal We-Kevin McKee: Why Your Narcissistic Husband Doesn't Want Sex! PART 1&2