Lorraine Nilon
Can you be Psychologically Comfortable with the Act of Growing, Changing and with Whatever Emotion Might Arise?
Big question that is the basis of this conversation! Join Lorraine and Jeffrey as he battles covid fog to discuss the pros and cons psychologically of comfort and discomfort.
How does our fear reactions (Fight, Flight, Freeze, Fawn and Hide) affect the decisions we make. Fear has a way of overtaking our logic, including emotional fear.
Holistic behavioral coach, Jeffrey Besecker. Using data-driven methodologies, we explore why we behave the way we do as human beings – think of it as investigative reporting for the soul. We are all on the journey to discover the light inside, that beacon that guides us to live our truest, most authentic selves. You can hear more from Jeffrey on his podcast The Light Inside where he aims to deliver actionable insights into our unconscious behaviors leading to richer, happier, and more fulfilling lives.
Emotional intelligence requires us to be honest with ourselves and this podcast episode explores the discomfort of growing in our self-awareness and the change of our self-perception.
www.thelightinside.us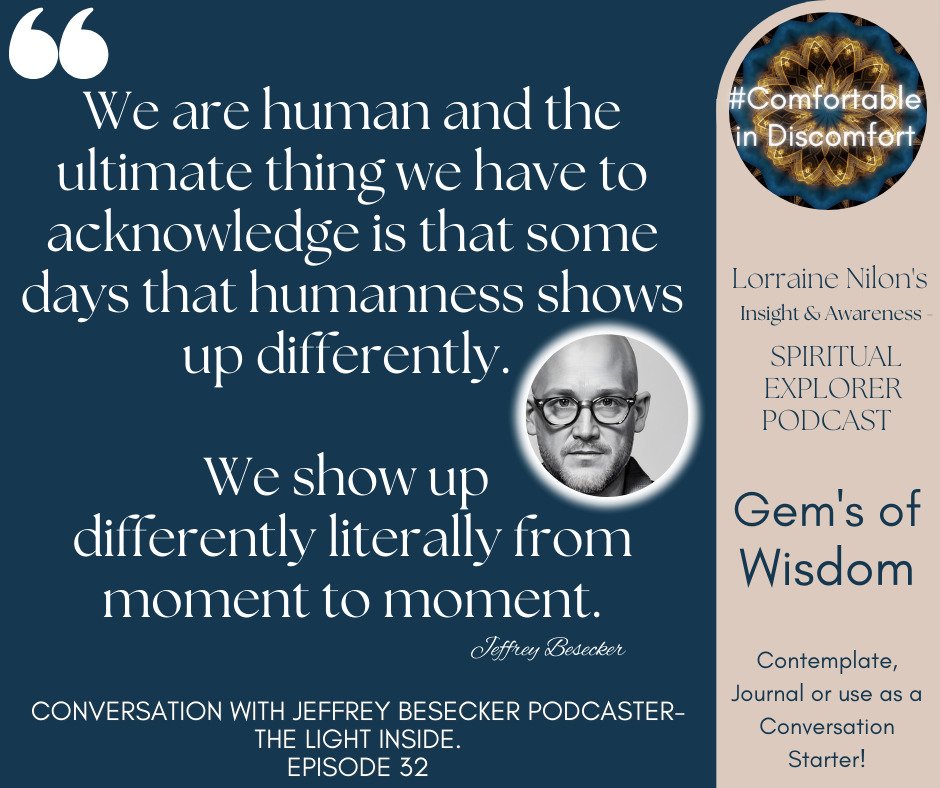 Lorraine Information
You'll be surprised at what a session with me reveals. I take on a limited number of clients and improvement in self-awareness is inevitable after a session. I pride myself on my ability to help you understand yourself better.
Never miss out on the announcements of the next episodes:
Check out MORE Gems of Wisdom from Episode 022 – Use them as journal prompts, contemplation points or conversation starters.
We would love to hear your Aha moments – A special WORDS OF WISDOM form for reviews
https://lorrainenilon.com.au/wp-content/uploads/Jeffery-Besecker-The-light-Inside-Podcast.jpg
1920
1920
Lorraine Nilon
https://lorrainenilon.com.au/wp-content/uploads/Lorraine-Nilon-4.png
Lorraine Nilon
2023-05-03 10:08:46
2023-05-03 10:39:17
032- Jeffrey Besecker - A Holistic Behavioral Coach & Podcaster: The Light Inside.